On The National Day: The Expenditure and Project Efficiency Authority leads the Government Procurement Management in KSA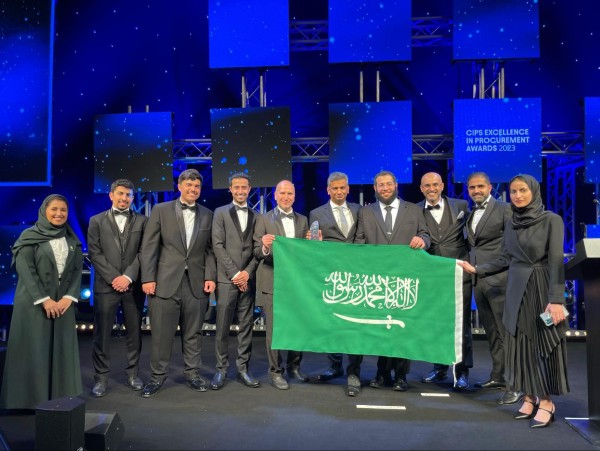 The Expenditure and Project Efficiency Authority (EXPRO) announced achieving first place in the global CIPS Excellence in Procurement Awards by CIPS in the Best Procurement Transformation Program category.
The recognition was declared by the awarding body CIPS on September 20, 2023, in a distinguished ceremony in London, UK. The Chartered Institute of Procurement & Supply is a global membership nonprofit organization, dedicated to upholding excellence in procurement and supply chains, with over 200,000 procurement and supply experts from all over the world.
In light of this prestigious achievement, EXPRO's CEO, Eng. AbdulRazzag AlAujan, said the award is a result of the steadfast support and empowerment from the government, under the leadership of the Custodian of the Two Holy Mosques and his Crown Prince, HRH Mohammed bin Salman.
"This honor reflects the synergistic endeavors of our partners across various government sectors, who have pioneered groundbreaking methods to amplify the efficiency of government expenditure, in alignment with the goals of Saudi Vision 2030," AlAujan pointed out.
"This synergy resulted in overcoming challenges in the governance of government procurement processes and standardizing product and services, enabling over 500 government entities to leverage from the unified government procurement framework agreements, markedly refining procedures and organizational operations."
AlAujan emphasized EXPRO's unwavering dedication to maintaining the highest standards to ensure excellence in government procurement. This commitment is evident through the implementation of cutting-edge solutions, prioritizing stakeholder engagement, focusing on data quality, bolstering expertise, integrating advanced technologies, and above all ensuring sustainability through rigorous evaluation and oversight.
EXPRO achieved first place in "CIPS" award in the Best Procurement Transformation Program category, with the project "SpendVision" Realizing Saudi's Vision through Smart Spend Management. This project outlines the strategic initiatives undertaken by EXPRO, in partnership with the Ministry of Finance and the National Center for Government Resource Systems. The project was designed to address various challenges, including significant price variations, lack of transparency, nonstandardized products, lengthy procurement process, and limited supplier commitment and optimizing expenditure efficiency for government entities in government tenders or unified government framework agreement.
This distinguished honor represents the Kingdom's fourth recognition in procurement excellence. The successes began with the Ministry of Finance, earning the "CIPS" award for Best Transformation Program for Procurement in 2019. Subsequently, the Ministry of Transport achieved an admirable second place in 2022 for the public procurement project of the year. Upholding this tradition of excellence, EXPRO received two first-place awards in the 2023 Middle East edition of "CIPS Awards". The first award recognized the best collaborative teamwork project, accomplished in collaboration with government entities, while the second award in outstanding diversity and inclusion practices for procurement teams.
For more details visit https://expro.gov.sa
Media Contact
Company Name: EXPRO
Contact Person: Hani Mirza
Email: Send Email
City: Riyadh
Country: Saudi Arabia
Website: expro.gov.sa