Author Quené Forée Releases Her Debut Book, "Spiritually LIT," Inspiring Positive Transformation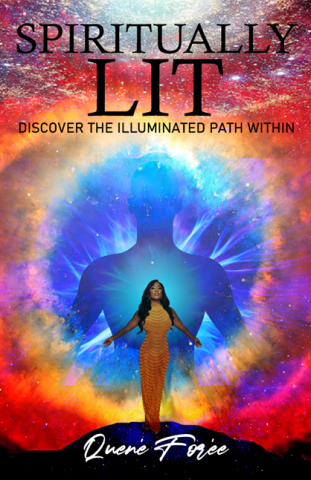 Quené Forée, a prominent influencer and Happiness Coach, is set to captivate readers with her insightful and heartfelt debut book, "Spiritually LIT." This engaging guide offers a modern perspective on spirituality, focusing on personal growth and positivity. Each chapter in the book ends with an exercise that helps readers to dive deeper and understand the practical aspects of each lesson and implement the concepts in their own lives. With a deep commitment to helping individuals find their inner light, Quené Forée's book is poised to inspire and empower.
"Spiritually LIT" is a refreshing departure from conventional spiritual guides. Instead of promising to revolutionize your life, it gently encourages self-discovery and embracing one's authentic self. The book challenges readers to question preconceived notions and embark on a journey toward personal growth and positivity.
Born and raised in the suburbs of Los Angeles, Quené Forée was fortunate to grow up in a loving and spiritually awakened family. Her early exposure to love, kindness, and spiritual awareness left an indelible mark on her worldview. Her belief in the power of positivity and the importance of positively impacting the world has been a guiding principle throughout her life.
At the age of 21, Quené faced a profound loss with the unexpected passing of her brother, Quinton. This devastating experience became the catalyst for her spiritual awakening and transformation. She found solace and inspiration in the lessons and love shared with her brother, setting her on a path of self-discovery and personal growth.
Quené Forée's influence extends beyond the pages of her book. As a "Happiness Influencer," her Instagram presence serves as a daily source of positivity, love, and wisdom for her followers. Additionally, she hosts the P's and Q's Podcast, where she guides individuals on their journeys toward self-discovery and personal growth, empowering them to break free from the confines of their limitations.
Life's journey has not always been easy for Quené. She has faced dark moments marked by death, divorce, and intense sadness. During one of these vulnerable periods, she experienced another significant awakening, connecting with divine guidance and messages from beyond the physical realm through signs and synchronicities. This profound transformation and self-realization led to the inspiration for her debut book, "Spiritually LIT."
"Spiritually LIT" represents Quené Forée's life mission: to help people shed old burdens, explore new paths, and align with their authentic selves and purposes. She dreams of creating a global community of spiritually awakened individuals who can discover their inner light and spread love and positivity worldwide.
Quené Forée's "Spiritually LIT" is not just a book; it's a companion on the journey to self-discovery and personal growth. With a focus on embracing the light within, the book offers readers a chance to break free from societal conditioning and live authentically. Through its pages, Quené invites readers to shine brightly and lead spiritually enlightened lives.
In a world that often emphasizes external success, "Spiritually LIT" reminds us of the importance of nurturing our inner selves. Quené Forée's book serves as a beacon of positivity, guiding readers toward a more authentic and fulfilled life.
"Spiritually LIT" by Quené Forée is now available on Amazon.
For any media or commercial inquiries, users can visit www.queneforee.com
Media Contact
Company Name: Quené Forée
Contact Person: Quené Forée
Email: Send Email
City: Los Angeles
State: CA
Country: United States
Website: www.queneforee.com