Electric Scooters are Witnessing Higher Sales Compared to Motorcycles, says P&S Intelligence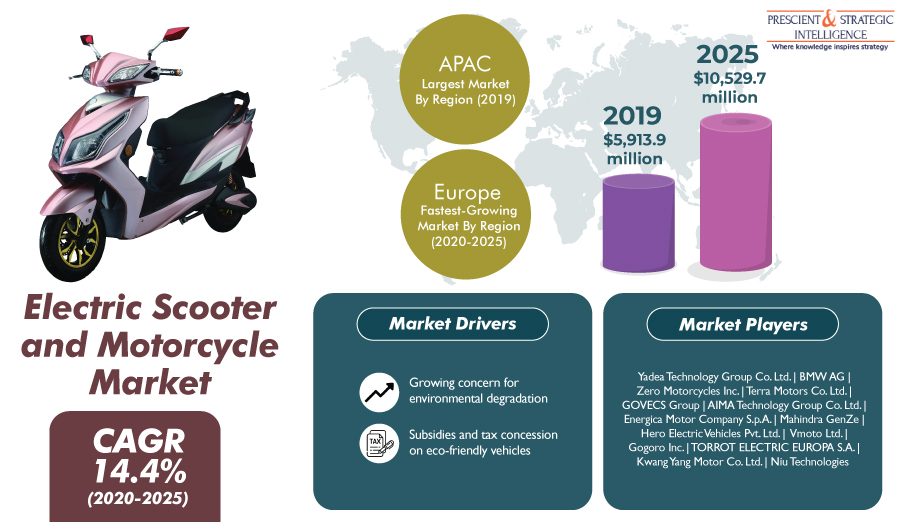 The global electric scooter and motorcycle market size is expected to grow at a CAGR of 14.4% during the forecast period (2020–2025).
Greening the earth is arguably one of the biggest trends today. While the literal meaning of 'green earth' might hint at reforestation, the concept also includes bringing down the pollution levels. Now, since automobiles are one of the biggest sources of air pollution, a major change is being brought about in their functioning. Their internal combustion engines (ICE), which burn gasoline and diesel, and, therefore, release greenhouse and toxic gases into the atmosphere, are being gradually replaced with electric batteries and motors.
To achieve this, governments around the world are implementing stringent emission regulations, which are making conventional automobiles costlier every year, and offering financial support to boost the manufacturing and sales of electric vehicles (EVs). P&S Intelligence expects the electric scooter and motorcycle market size, driven by all these factors, to rise from $5,913.9 million in 2019 to $10,529.7 million by 2025, at a 14.4% CAGR between 2020 and 2025. One of the policies implemented to boost electric two-wheeler sales is the FAME India II scheme, under which purchase incentives are being offered for 1,000,000 such automobiles.
Download report sample at: https://www.psmarketresearch.com/market-analysis/electric-scooter-and-motorcycle-market/report-sample
Between scooters and motorcycles, electric scooters have witnessed the higher sales till now because they are cheaper and easily available. However, electric scooters have range and speed issues, which is why the demand for electric motorcycles is increasing fast. Automakers have begun introducing new electric motorcycle models with better batteries and more-powerful motors, so the issue of driving range and speed can be remedied. Plus, with their sleeker look, motorcycles appeal more to the youth compared to scooters.
Presently, the combined sales of all types of electric two-wheelers are the highest in Asia-Pacific (APAC), as it is home to some of the most-polluted countries in the world, specifically China and India. Moreover, being the largest auto markets on earth, these countries are witnessing a burgeoning demand for all types of EVs. Another reason for the dominance of APAC on the global electric scooter and motorcycle market is the presence of a large number of organized and unorganized automakers and manufacturers of EV components, such as motors, battery packs, wires, controllers, and battery management systems.
Pre-Purchase Inquiry at: https://www.psmarketresearch.com/send-enquiry?enquiry-url=electric-scooter-and-motorcycle-market
Some of the major players operating in the global electric scooter and motorcycle market are Yadea Technology Group Co. Ltd., Zhejiang Luyuan Electric Vehicle Co. Ltd., AIMA Technology Co. Ltd., Jiangsu Xinri E-Vehicle Co. Ltd., Dongguan Tailing Electric Vehicle Co. Ltd., GOVECS Group, Ampere Vehicles Pvt. Ltd., Vmoto Limited, Hero Electric Vehicles Pvt. Ltd., and Energica Motor Company S.p.A.
Market Size Breakdown by Segments
By Product
By Battery Type
Sealed lead acid (SLA)
Lithium-ion (Li-ion)
By Voltage
By Technology
Geographical Analysis
Asia-Pacific

China
Japan
India
South Korea
Indonesia
Malaysia
Singapore
Philippines
Thailand

Europe

Germany
Netherlands
Belgium
France
Italy
U.K.
Spain
Austria
Switzerland

North America
Latin America

Brazil
Mexico
Chile
Colombia

Middle-East and Africa

Saudi Arabia
U.A.E.
Qatar
South Africa
Browse Other Related Reports
E-Bike Market
The provision of financial incentives and subsidies by governments is a major driving factor of the e-bike market. The Asia-Pacific region has been dominating the e-bike market in the past, in terms of volume.
https://www.psmarketresearch.com/market-analysis/e-bike-market
North America Electric Scooters and Motorcycles Market
In the near future, the U.S. will generate the higher revenue for the companies in the North American electric scooters and motorcycles market on account of the strong government support for electric vehicles, to reduce the emission of greenhouse gases (GHGs).
https://www.psmarketresearch.com/market-analysis/north-america-electric-scooters-and-motorcycles-market
Media Contact
Company Name: P&S Intelligence
Contact Person: Abhishek
Email: Send Email
Phone: +918887787886
Address:Noida Sector 2
City: Noida
State: UP
Country: India
Website: https://www.psmarketresearch.com/market-analysis/electric-scooter-and-motorcycle-market