Hemorrhoids Pipeline Insight, 2021 by DelveInsight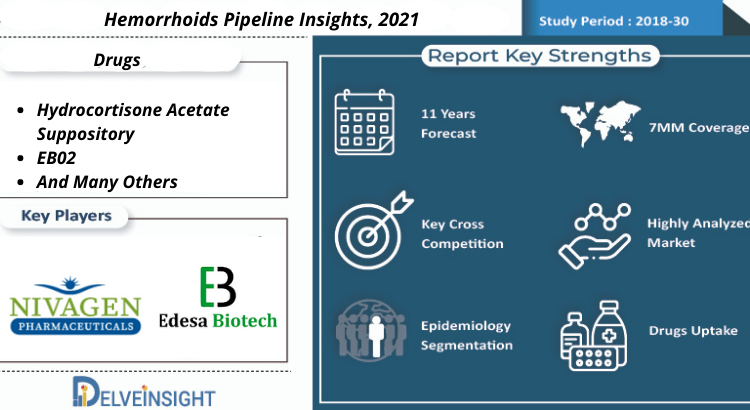 "Hemorrhoids Pipeline" report has been added to DelveInsight
Hemorrhoids Overview
Hemorrhoids, also called piles, are swollen and inflamed veins around the anus or in lower rectum. The two types of hemorrhoids are external hemorrhoids, which form under the skin around the anus, and internal hemorrhoids, which form in the lining of the anus and lower rectum.
DelveInsight's, "Hemorrhoids- Pipeline Insight, 2021," report provides comprehensive insights about 10+ companies and 10+ pipeline drugs in the Hemorrhoids pipeline landscape. It covers the pipeline drug profiles, including clinical and nonclinical stage products. It also covers the therapeutics assessment by product type, stage, route of administration, and molecule type. It further highlights the inactive pipeline products in this space.
Request free sample copy- https://www.delveinsight.com/sample-request/hemorrhoids-pipeline-insight
Regions covered
Hemorrhoids Pipeline: Key Players
Nivagen Pharmaceuticals Inc.
Edesa Biotech
And many others
Hemorrhoids Pipeline: Drugs
Hydrocortisone Acetate Suppository
EB02
And many others
Hemorrhoids Pipeline: Causes
The exact cause of hemorrhoids is unknown. A lot of pressure is put on human rectal veins due to our upright posture, which can potentially cause bulging. Other contributing factors include:
• Aging
• Chronic constipation or diarrhea
• Pregnancy
• Straining during bowel movements
• Faulty bowel function due to overuse of laxatives or enemas
• Spending long periods of time on the toilet
Hemorrhoids Pipeline: Symptoms
Bleeding during bowel movements
Protrusion of skin during bowel movements
Itching in the anal area
Pain in the anal area
Sensitive lump(s)
Hemorrhoids Pipeline: Treatment
Eating a high-fiber diet and taking over-the-counter fiber supplements (25-35 grams of fiber/day) to make stools soft, formed and bulky.
Avoiding excessive straining to reduce the pressure on hemorrhoids and help prevent protrusion. Drinking more water to help prevent hard stools and aid in healing.
Taking warm tub baths (sitz baths) for 10 to 20 minutes, a few times per day to help the healing process.
Surgical treatment
If pain from a thrombosed hemorrhoid is severe, the physician may decide to remove the hemorrhoid and/or clot with a small incision. These procedures can be done at physician's office or at the hospital under local anesthesia. Rubber band ligation is a procedure that doctors use to treat bleeding or prolapsing internal hemorrhoids.
Hemorrhoids Emerging Drugs
CITI-002: Citius Pharmaceuticals
CITI-002 is a topical formulation of halobetasol and lidocaine that is intended to provide anti-inflammatory and anesthetic relief to individuals suffering from hemorrhoids. Citius' halobetasol and lidocaine formulation could become the first FDA-approved product to treat hemorrhoids in the United States.
Request free sample copy- https://www.delveinsight.com/sample-request/hemorrhoids-pipeline-insight
Table of content
Introduction
Executive Summary
Hemorrhoids: Overview
Pipeline Therapeutics
Therapeutic Assessment
Hemorrhoids – DelveInsight's Analytical Perspective
In-depth Commercial Assessment
Hemorrhoids Collaboration Deals
Late Stage Products (Phase III)
Drug Name: Company Name
Mid Stage Products (Phase II)
CITI-001: Citius Pharmaceuticals
Early Stage Products (Phase I)
Drug Name: Company Name
Preclinical and Discovery Stage Products
Drug Name: Company Name
Inactive Products
Hemorrhoids Key Companies
Hemorrhoids Key Products
Hemorrhoids- Unmet Needs
Hemorrhoids- Market Drivers and Barriers
Hemorrhoids- Future Perspectives and Conclusion
Hemorrhoids Analyst Views
Hemorrhoids Key Companies
Appendix
Hemorrhoids Pipeline: Key Questions Answered
How many companies are developing Hemorrhoids drugs?
How many Hemorrhoids drugs are developed by each company?
How many emerging drugs are in mid-stage, and late-stage of development for the treatment of Hemorrhoids?
What are the key collaborations (Industry–Industry, Industry-Academia), Mergers and acquisitions, licensing activities related to the Hemorrhoids therapeutics?
What are the recent trends, drug types, and novel technologies developed to overcome the limitation of existing therapies?
What are the clinical studies going on for Hemorrhoids and their status?
What are the key designations that have been granted to the emerging drugs?
About DelveInsight
DelveInsight is a Business Consultant company and serves as a Knowledge Partner across the value chain of the Pharmaceutical Industry. With the use of proprietary databases and analytical models, DelveInsight provides cutting-edge market and pipeline analysis and API intelligence across all therapy areas to the Pharma and biotech sector, helping clients to quantify market events and evaluate their impact on the valuation of products, portfolios, and companies.
Contact Us
Shruti Thakur
+91-9650213330
Media Contact
Company Name: DelveInsight Business Research LLP
Contact Person: Yash Bhardwaj
Email: Send Email
Phone: +919650213330
Address:304 S. Jones Blvd #2432
City: Las Vegas
State: NV
Country: United States
Website: https://www.delveinsight.com/