Parkinson's Disease Analysis, Market Size, Epidemiology, Leading Companies and Competitive Analysis By DelveInsight

DelveInsight has launched a new report on Parkinson's Disease Market Insights, Epidemiology and Market Forecast-2030
DelveInsight's "Parkinson's disease Market Insights, Epidemiology, and Market Forecast-2030" report delivers an in-depth understanding of the Parkinson's disease psychosis, historical and forecasted epidemiology as well as the Parkinson's disease market trends in the United States, EU5 (Germany, Spain, Italy, France, and United Kingdom) and Japan.
Parkinson's disease is a type of movement disorder that can affect the ability to perform common, daily activities. The most common motor symptoms of PD are tremor (a form of rhythmic shaking), stiffness or rigidity of the muscles, and slowness of movement (called bradykinesia). Most of the people develop the symptoms of Parkinson's after the age of 50, but it can affect younger person as well. There are mainly two types of Parkinson's, Primary Parkinsonism or Idiopathic Parkinson's and Secondary or atypical Parkinsonism. According to the American Parkinson Disease Association (APDA), Parkinson's disease Handbook, 2019, around 1 million individuals in the US have PD in 2019 and it increases with age, the similar trend was seen in the study by Marras, C et al., which was conducted in 2018.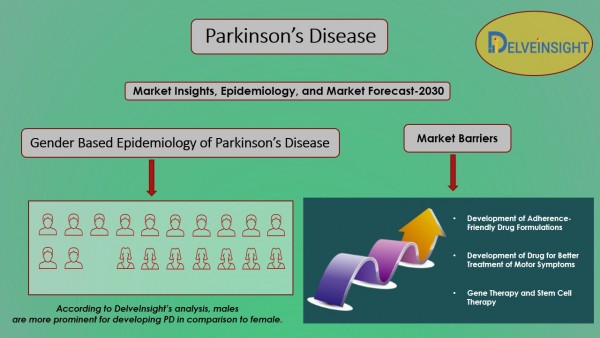 Request for :- Parkinson's Disease free sample page
Parkinson's Disease Epidemiology
The Parkinson's disease epidemiology division provide insights about historical and current Parkinson's disease patient pool and forecasted trend for every seven major countries. It helps to recognize the causes of current and forecasted trends by exploring numerous studies and views of key opinion leaders. This part of the DelveInsight report also provides the diagnosed patient pool and their trends along with assumptions undertaken.
Report Key facts:-
1. As per Delveinsight's estimation, the disease is more frequent in people age ≥75 years (47%) followed by people aged 65–74 years (35%), 50–64 years of age. It was also found that Parkinson's is less frequent in people age ≤49 years.
2. Also as per, Parkinson's UK most people with Parkinsonism have idiopathic Parkinson's disease, and the data from Parkinson's News Today also confirmed that the majority of patients (around 80–85%) diagnosed with Parkinson's disease have what is called primary parkinsonism or idiopathic Parkinson's.
Report Key Benefits:-
1. Parkinson's Disease market report covers a descriptive overview and comprehensive insight of the Parkinson's Disease epidemiology CParkinson's Disease market in the 7 MM (United States, EU5 (Germany, Spain, France, Italy, UK) & Japan.)
2. Parkinson's Disease market report provides insights on the current and emerging therapies.
3. Parkinson's Disease market report offers a global historical and forecasted market covering drug outreach in 7 MM.
4. Parkinson's Disease market report provides an edge that will help in developing business strategies by understanding trends shaping and driving the Parkinson's Disease market.
"According to DelveInsight's analysis, males are more prominent for developing PD in comparison to female"
Key companies working on Parkinson's Disease that are given below:-
1.Kyowa Kirin
2. BIAL Pharma Co.
3. Adamas Pharmaceutical Co.
Name of drugs are given below:-
1. Istradefylline (KW6002):
2. Opicapone
3. Gocovri
1. Key Insights
2. Executive Summary of Parkinson's disease
3. Competitive Intelligence Analysis for Parkinson's disease
4. Parkinson's disease : Market Overview at a Glance
5. Parkinson's disease : Disease Background and Overview
6. Patient Journey
7. Parkinson's disease Epidemiology and Patient Population
8. Treatment Algorithm, Current Treatment, and Medical Practices
9. Unmet Needs
10. Key Endpoints of Parkinson's disease Treatment
11. Marketed Products
12. Emerging Therapies
13. Parkinson's disease : Seven Major Market Analysis
14. Attribute analysis
15. 7MM: Market Outlook
16. Access and Reimbursement Overview of Parkinson's disease
17. KOL Views
18. Market Drivers
19. Market Barriers
20. Appendix
20.1. Bibliography
20.2. Report Methodology
21. DelveInsight Capabilities
22. Disclaimer
23. About DelveInsight
Why should you buy this Parkinson's Disease market report?
1. The report will help in developing business strategies by understanding trends shaping and driving the Parkinson's disease market
2. To understand the future market competition in the Parkinson's disease market and Insightful review of the key market drivers and barriers
3. Organize sales and marketing efforts by identifying the best opportunities for Parkinson's disease in the US, Europe (Germany, Spain, Italy, France, and the United Kingdom) and Japan
4. Identification of strong upcoming players in the market will help in devising strategies that will help in getting ahead of competitors
5. Organize sales and marketing efforts by identifying the best opportunities for Parkinson's disease market
6. To understand the future market competition in the Parkinson's disease market
Related Report:-
1. Parkinson's disease psychosis- Market Insight, Epidemiology and Market Forecast -2030
Media Contact
Company Name: DelveInsight Business Research LLP
Contact Person: Kritika Rehani
Email: Send Email
Phone: 9193216187
Address:304 S. Jones Blvd #2432
City: Las Vegas
State: Nevada
Country: United States
Website: https://www.delveinsight.com/