NC BlockFiesta: First-Edition of Blockchain Meetup Forthcoming in Namma Chennai
First-ever Blockchain meetup "NC BlockFiesta" is on its way to occur on December 17 in Chennai with prominent figures from the blockchain space.
Namma Chennai is expecting an exclusive blockchain meetup featuring influential elites, industry experts, and several Blockchain enthusiasts. NC Global Media has announced its first-ever edition of the blockchain meetup, "NC BlockFiesta" to be held on December 17 in Flame Le Club, Le Meridien, Chennai. This event gathers the most tech experts and visionaries of the space under one roof to deliver and share their conceptions about the future of the blockchain industry.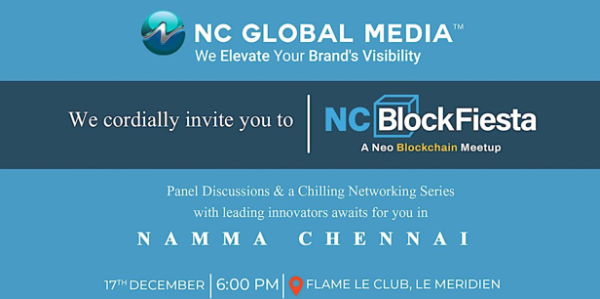 NC BlockFiesta will commence the event with the Grand Hackathon Launch "Amalgamation'22". The vision of this tech ideathon is to act as a bridge between Web2 and Web3 ecosystems. On the other hand, creating a platform for developers and investors to connect seamlessly is one of the ideologies behind NC BlockFiesta.
Live Sessions from Top Mentors of Industry
The speakers of the event are the top mentors of the industry who are going to converse their perspectives about the different sectors of blockchain space. A few influential set of speakers incorporate Nikolay Shkilev, CEO of Zelwin Ecosystem, Vikram Subburaj, CEO, of Giottus, Mohan, CEO & Co-Founder of IppoPay, Ashok Varadharajan, Co-Founder & CTO of bitsCrunch and a few other distinguished personalities.
Significantly, it is anticipated that the session will turn out to be synergistic and engaging to the community, via online and offline. The team has confirmed that the event is structured to be informative and interactive to all the budding enthusiasts from the space. Adding to this, the speakers will also cover topics about NFT, Metaverse, and Web3.
NC Global Media Founder & CEO Rohit said,
"Through the 'Namma Chennai' meetup NC Global Media team will unveil different paths, possibilities, effective ideas, and tactics for startups to grow their business, and we'll also help you take your brand to globalized market".
However, he continued by mentioning that it's going to be a win-win situation for both startups and investors who join NC BlockFiesta. Consequently, NC Global Media affirms that the event will begin with the launch of a hackathon by Rapogen. The hackathon is also set to occur in 7 different cities across the country creating a history in the Indian Blockchain space. Several giant investors have already been enticed towards the event as it serves as a gateway between projects and developers.
The C-level executives of the respective companies are excepted to make their presence during NC BlockFiesta, bitsCrunch, AME Chain, Kana Labs, Flex Finance, Wowtalkies, Cliff, Eternal Bots, MZOID, BlitzCraftHQ, GL, Zelwin, GuardianLink, CKCTECH, Freshdigital, Cercle X, Kalakendra DAO, KoinBazar, FaceFi, DripVerse Protocol, Giottus, HumCen, yMedia, Octaloop, Router Protocol, and Headlines of Today.
About NC BlockFiesta
NC BlockFiesta is a Neo blockchain meetup that is initiated to create ample opportunities for the young community in the blockchain space. The platform's vision also involves bringing more value to potential projects and leading it to the global market. The organization is indeed determined to chase its objective of providing blockchain education for 1 Million students globally.
Media Contact
Company Name: NC Global Media
Contact Person: Lokeshk Kumar
Email: Send Email
City: Chennai
Country: India
Website: https://ncglobalmedia.com