Czur Tech announced "Fancy Pro," An Ultra Webcam and Pro Book Scanner
Czur Tech Co.LTD is set to release a one-stop solution for all professionals with an ultra webcam and pro book scanner in one package, "Fancy Pro."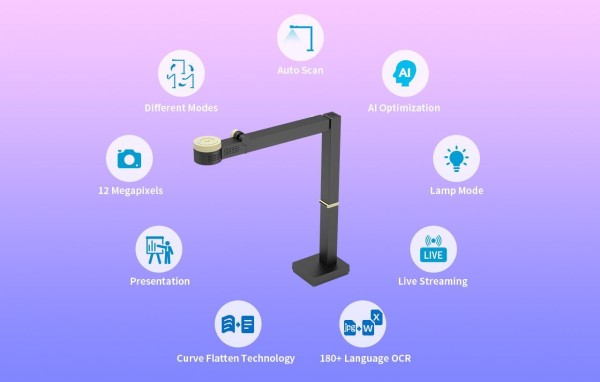 During the pandemic, the need for professional and intelligent scanners gained momentum as people and companies shifted to a work-from-home concept, and scanners became essential in their work. Czur Tech is on the verge of completing production of the Fancy Pro, which is a 2-in-1 book scanner that also works as a webcam. The complete package will be available soon for professionals to complete tasks efficiently and with excellent quality.
The Fancy Pro was listed on Indiegogo, where it got support from over 550 backers within 4 days.
The Fancy Pro ultra webcam and book scanner by CZUR will be a revolutionary product in the field of premium scanning devices. The device examines books or stacks of papers in minutes. The intelligent scanner by CZUR will use two different softwares. It depends if the user wants to join meetings, record video tutorials, or intends to scan documents to send them to someone or store them safely.
The device's main attraction is the 12-megapixel camera with 330 DPI, which ensures users a high-quality and resolution image for scanning books and documents. The device is easily adjustable for different angles of scanning. It can be easily used for live streamings, presentations, and online meetings, which makes it an all-in-one package for professionals.
Once scanned, the scanner's OCR features convert documents into editable file formats in more than 180 languages. The device examines one page in 1.5 seconds, enabling high-speed scanning for even the most comprehensive documents. Whether the book is old or damaged, the curve flattening and AI optimization ensures scanning for even the oldest books with advanced features like multi-target scanning, auto-alignment, auto-mending, smart paging, and many more.
CZUR Fancy Pro is powered by the latest technology to help users with a hassle-free experience and affordable quality scanning of documents. The main idea of the development of the device is to provide users with a one-stop solution for high-end professional needs.
Check out the company's official website and look at more fantastic products at https://www.czur.com
For updates follow CZUR on Twitter: https://twitter.com/CZUROfficial
About CZUR
CZUR was founded in 2013; the company develops smart hardware solutions for companies and individuals with the best quality and latest technology. Their products focus on hardware, PC, web, app development, and algorithms. Their products improve work efficiency in workplace environments.
Media Contact
Company Name: CZUR TECH CO. LTD
Contact Person: Emma
Email: Send Email
Phone: +86-755-2397-4826
Country: China
Website: www.czur.com