Camlist launches a free vet service worldwide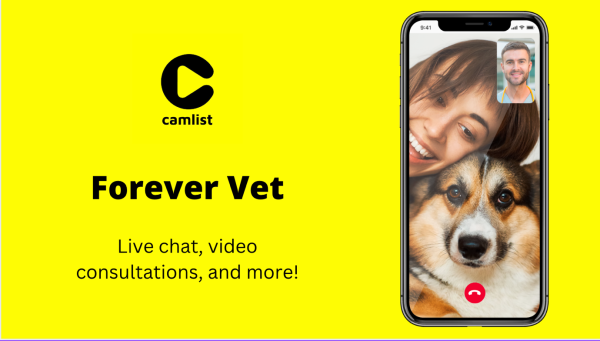 Camlist, the #1 marketplace for pets worldwide, announces the launch of its in-app free vet service.
Camlist announced the launch of its in-app 24/7 free vet service for all its buyers, an exciting addition to the video-first pet marketplace which aims to be the safest way to rehome a pet across the US and the world.
About the launch of the 24/7 vet in the app, Camlist CEO Moustafa Mahmoud said: "Our vision since day 1 was to be the safest way for anyone to rehome a pet. Since most of our buyers are first time pet parents, they usually have a lot of questions about how to care for their new furry friend. We launched our in-app vet as a free service for our buyers to provide them the best advice without a costly trip to a local vet."
Since their launch in the US just a few months ago, Camlist has already gained significant popularity in the pet space with thousands of US pet breeders flocking to the platform on a daily basis. "We have tens of thousands of breeders using Camlist to rehome their pets in the safest way possible. Every feature we release is carefully tailored for the needs of our community, with a primary focus on safety and animal welfare, which is why we're super excited about bringing our free vet service to all our customers", said Moustafa.
This is a major next step for the marketplace which has already introduced several innovations to the pet industry with the most recent being its in-app community connecting all its members, in addition to other innovations for pet breeders and parents such as live streaming, a rating system for breeders, video listings, video calls, 0% financing, a cashback club for pet parents, and several others. This unique combination of features solve many of the problems that both pet parents and breeders face during the process of rehoming a pet.
To raise awareness to their mission, Camlist offers several perks to any buyer who gets their fur baby through the app such as 1 year of free pet food, access to a cashback club that helps them get cashback of up to 30% on any purchase they make for their pet (including food, supplies, toys, etc), special discounts on insurance, and the newly introduced 24/7 free vet service. Moustafa said: "We started offering these perks to promote our mission of safe rehoming. Any pet rehomed through Camlist will come with one full year of free pet food for a limited time. We hope this brings awareness to our mission across the community."
He also hinted on a new exciting feature that will be announced soon: "We're about to announce a major feature that will bring a completely new and entertaining experience to pet parents for buying supplies for their fur babies."
Camlist believes that their video-first app has the potential to change the way people rehome pets in the US and across the world, making the entire process much safer for all participants with a special focus on animal welfare. They hope that more people opt in to use the app when they're considering rehoming a pet to support this mission and enjoy a safer and more convenient experience.
About Camlist:
Camlist is the world's first video marketplace for pets. Having launched in early 2020, they're now active in 3 countries with the most recent being the US. Camlist now supports thousands of buyers and sellers on their app and has introduced their unique 0% interest pet financing product as well as a host of features that provide buyers and sellers with a safer and more convenient way to rehome their pets. The app is available on both iOS and Android.
Media Contact
Company Name: Camlist
Contact Person: Moustafa Mahmoud
Email: Send Email
City: Dubai
Country: United Arab Emirates
Website: www.camlist.com