MULTI BLOOM® by Eva Kinga: creating a super glow beyond standards
The EVA KINGA® Skincare Made in Germany with a new Green-Gold collection: healthy goodies for amibitious women – the MULTI BLOOM®
Cologne, Germany – Beauty icon EVA KINGA® Skincare, a Germany based trendy online skincare store not only for women, but for all gender: here is the new must-have exotic collection MULTI BLOOM®, fittingly aimed at a dapper look that make you stand out of the crowd making you feel greenly vivid and exquisite. Yes, thats the main point – green organic values, because healthy skin is always a priority N°1, right? With unique experience in skincare industry, EVA KINGA® Skincare always has a keen eye for healthy power pruducts and a passion for keeping up with the newest green-beauty trends. She wants to see women with a chance to rock that same glamorous and healthy look, with soft, glowing and alluring skin. Everyone, everywhere.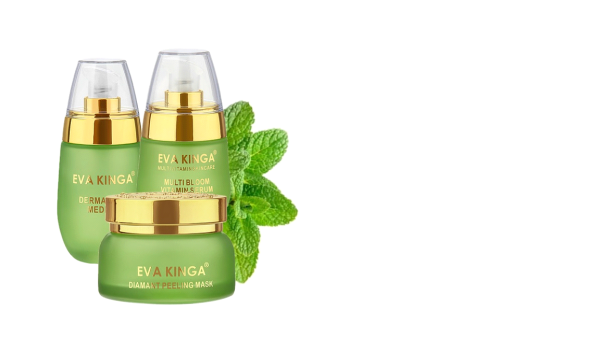 Keen to continue with its unrivaled success, EVA KINGA® Skincare is introducing the new collection just in time for central fall "when our skin needs are on a higher level". Eva Kinga meets the needs to the point. Her favourite new goodies are like a sunshine kiss: Diamond Peeling Mask 2 in 1, face with real black diamond peeling grains, Derma Lipid Medium face cream for an ultimate glow and Multi Bloom® Vitamin Serum (which is again in stock). Speaking about the collection, Miss Eva, the company owner, commented, "I am so excited, it is a collection of new green skincare. We truly have the quality products made of highly potent herbals, flowers essences and vitamins for everyone, under the umbrella of German expertise, science and labor. We are beauty-conscious of the ever-changing needs for skin beauty, and we are dedicated to offer high-quality German skincare products to every Greens-Made-in-Germany-Lover around the globe". If you´re 25+ and healthy glowy skin is important for you, than you´re right here! Because not just the greens, but the label Made In Germany, is worldwide the N°1 label of high quality products. (source: statistics statista.com) It´s an exclusive collection with limited pieces, so do not wait and learn more about it at [email protected]
The store EVA KINGA® is gifting you with green skincare goodies and beyond: free vivid bags, jade roller, beauty products and much more! Limited stock, check the online shop for more information. The owner maintained, that she is much more explicit to ensure the quality of the goodies and to deliver value for customers worldwide, almost all ages and all skin types.
The lively glowing skin makes women feel confident, self-assured and composed, that's why women love to use it. Truly innovative and green ingredients of high performance. Visit the website where you'll find quality products Made in Germany, nourishing and caring greens. And best of all: secrets, that you will soon read about! Until then: get your limited pieces of MULTI BLOOM® and stay in bloom. You´ll love it as we do!
About EVA KINGA® Skincare:
Based in Cologne, Germany. EVA KINGA® Skincare is an international online store. The renowned beauty brand is committed to a splendor pursuit of innovation by providing its customers with highest-quality products, approved by the german cosmetics ordinance: Deutsche Kosmetik Verordnung and uncompromising prices. Values like green natural, cruelty free and healthy fresh skin are must haves on the daily basis.
For more information visit the beautiful website www.evakingaskincare.de
Media Contact
Company Name: EVA KINGA®
Contact Person: Alex Press
Email: Send Email
Country: Germany
Website: www.evakingaskincare.de