Global Logistics Robots Market Report 2022-2027, Growth Impelled by Booming E-Commerce Industry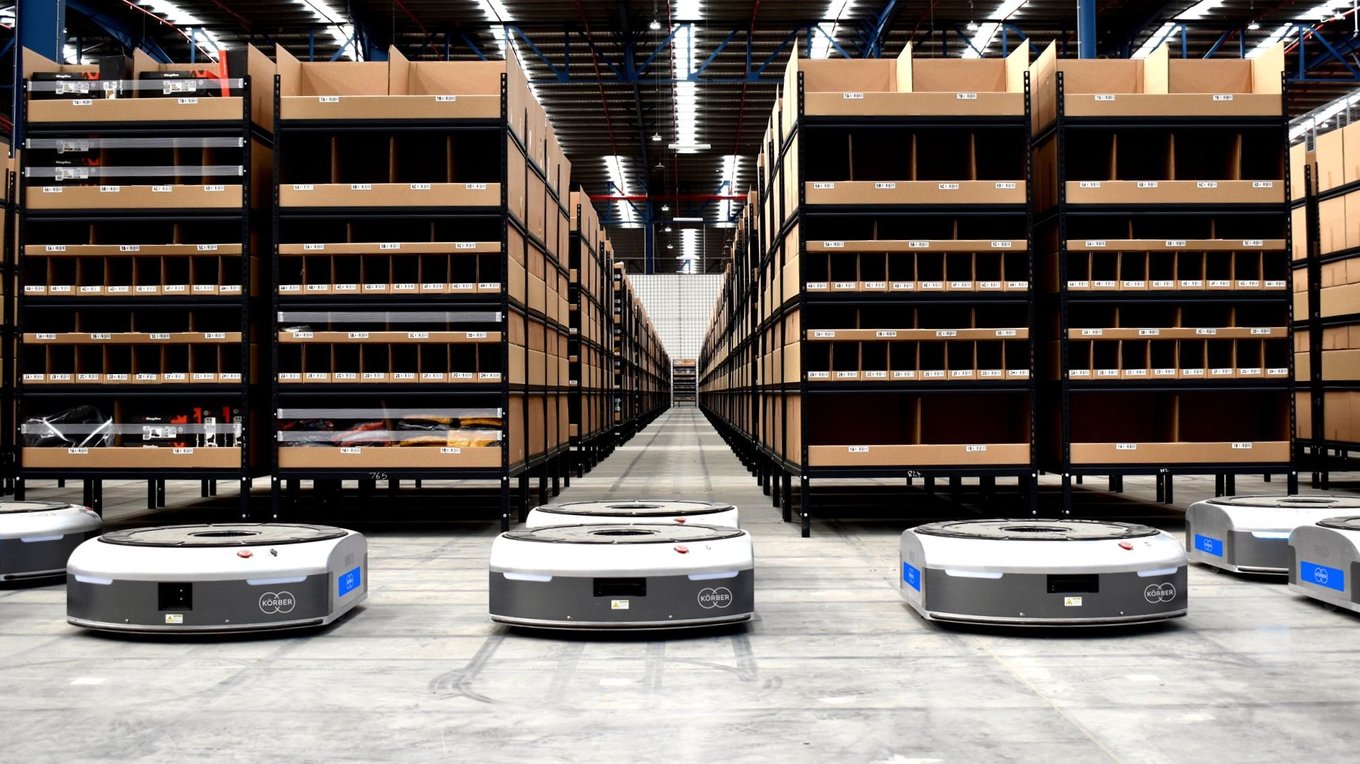 Logistics Robots Market: Global Industry Trends, Share, Size, Growth, Opportunity and Forecast 2022-2027
The global logistics robots market reached a value of US$ 11.7 Billion in 2021. Looking forward, IMARC Group expects the market to reach US$ 49.4 Billion by 2027, exhibiting at a CAGR of 24.16% during 2022-2027
According to the latest report by IMARC Group "Logistics Robots Market: Global Industry Trends, Share, Size, Growth, Opportunity and Forecast 2022-2027", Offers a comprehensive analysis of the industry, which comprises insights on global logistics robots market report.
The global logistics robots market reached a value of US$ 11.7 Billion in 2021. Looking forward, IMARC Group expects the market to reach US$ 49.4 Billion by 2027, exhibiting at a CAGR of 24.16% during 2022-2027. Logistics robots refer to self-directed autonomous systems and devices used in storage facilities and warehouses for intralogistics processes which include organizing and movement of products. They can be of several types, such as automated guided vehicles, robotic arms, autonomous mobile robots, etc. These logistics robots improve the entire warehouse operations by automating pick and place, loading and unloading, packing and co-packing, shipment and delivery, and other functions. They further reduce labor, machinery, and maintenance costs, enhance human-machine collaborations, assist companies in complying with worker safety regulations, and lead to significant profitability and productivity gains as compared to traditional equipment. Consequently, logistics robots find extensive applications across various sectors, including e-commerce, retail, healthcare, food and beverages, automotive, etc.
Logistics Robots Market Trends:
The increasing number of warehousing and logistics companies that are employing robotic technologies to increase the speed and efficiency of their operations is primarily driving the logistics robots market. Apart from this, the growing e-commerce industry, on account of the escalating penetration of high-speed internet and the shifting preferences toward online shopping, and the elevating emphasis among the organizations of this segment on improving packaging quality and timely delivery are acting as significant growth-inducing factors. Additionally, the implementation of stringent worker safety norms by government bodies aimed at preventing hazardous and dangerous working environments involving gases or materials is also positively influencing the global market. Besides this, the development of numerous modern technologies, such as computer vision, machine learning (ML), artificial intelligence (AI), etc., is expected to propel the logistics robots market over the forecasted period.
Covid-19 Impact:
We are regularly tracking the direct effect of COVID-19 on the market, along with the indirect influence of associated industries. These observations will be integrated into the report.
Request for a sample copy of this report: https://www.imarcgroup.com/logistics-robots-market/requestsample
Global Logistics Robots Market Report Coverage and Industry Segmentation:
The report cover the below key market segments:
Market Breakup by Component:
Market Breakup by Robot Type:
Autonomous Mobile Robots
Automated Guided Vehicles
Robotic Arms
Others
Market Breakup by Function:
Pick and Place
Loading and Unloading
Packing and Co-Packing
Shipment and Delivery
Others
Market Breakup by Operation Area:
Factory Logistics Robots
Warehouse Logistics Robots
Outdoor Logistics Robots
Others
Market Breakup by End Use Industry:
E-Commerce
Healthcare
Retail
Food and Beverages
Automotive
Others
Market Breakup by Region:
North America (United States, Canada)
Asia Pacific (China, Japan, India, South Korea, Australia, Indonesia, Others)
Europe (Germany, France, United Kingdom, Italy, Spain, Russia, Others)
Latin America (Brazil, Mexico, Others)
Middle East and Africa
Competitive Landscape with Key Player:
ABB Ltd
Asic Robotics AG
Clearpath Robotics Inc
FANUC Corporation (TYO: 6954)
Fetch Robotics Inc
Kion Group AG (ETR: KGX)
KUKA Aktiengesellschaft (Midea Group Co. Ltd.)
Omron Corporation (TYO: 6645)
Toshiba Corporation and Yaskawa Electric Corporation
Ask Analyst for Customization and Browse full report with TOC & List of Figure: https://www.imarcgroup.com/logistics-robots-market
As the novel coronavirus (COVID-19) crisis takes over the world, we are continuously tracking the changes in the markets, as well as the industry behaviours of the consumers globally and our estimates about the latest market trends and forecasts are being done after considering the impact of this pandemic.
If you want latest primary and secondary data (2022-2027) with Cost Module, Business Strategy, Distribution Channel, etc. Click request free sample report, published report will be delivered to you in PDF format via email within 24 to 48 hours of receiving full payment.
About Us
IMARC Group is a leading market research company that offers management strategy and market research worldwide. We partner with clients in all sectors and regions to identify their highest-value opportunities, address their most critical challenges, and transform their businesses.
IMARC's information products include major market, scientific, economic and technological developments for business leaders in pharmaceutical, industrial, and high technology organizations. Market forecasts and industry analysis for biotechnology, advanced materials, pharmaceuticals, food and beverage, travel and tourism, nanotechnology and novel processing methods are at the top of the company's expertise.
Media Contact
Company Name: IMARC Group
Contact Person: Elena Anderson
Email: Send Email
Phone: +1-631-791-1145
Address:30 N Gould St Ste R
City: Sheridan
State: WY
Country: United States
Website: https://www.imarcgroup.com