Collaborative Robot Market Forecast to 2027, Top Companies Overview, Growth, Share, Size, Demand and Opportunities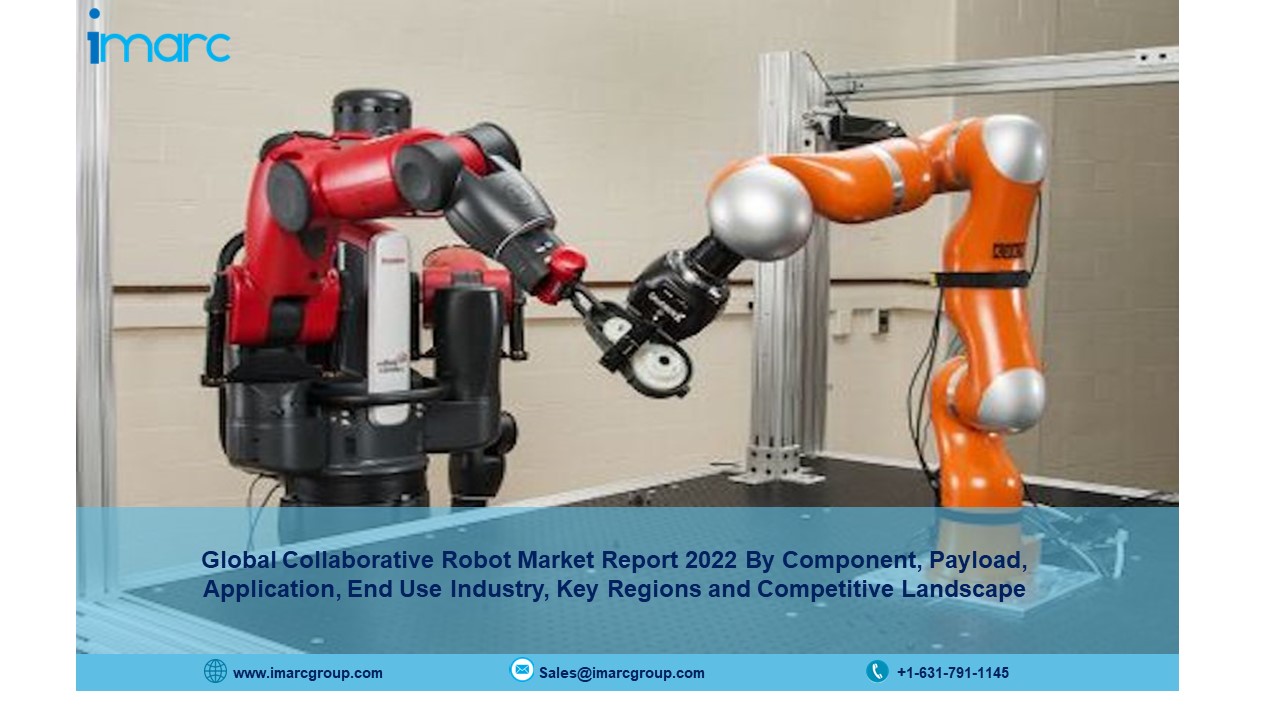 IMARC Group expects the market to reach a value of US$ 11.82 Billion by 2027, exhibiting a CAGR of 41.20% during 2022-2027.
The latest research study "Collaborative Robot Market: Global Industry Trends, Share, Size, Growth, Opportunity and Forecast 2022-2027" by IMARC Group, finds that the global collaborative robot market size reached US$ 1.31 Billion in 2021. Looking forward, IMARC Group expects the market to reach a value of US$ 11.82 Billion by 2027, exhibiting a CAGR of 41.20% during 2022-2027.
A collaborative robot, alternatively known as a cobot, is a robot that is capable of learning various tasks to facilitate direct human-robot interaction in a shared space. It relies on cognitive computing, machine vision, and touch and mobile technologies. Collaborative robot models remain aware of their surroundings through demonstration and reinforcement learning. They consume less energy in comparison to their larger autonomous counterparts and utilize collision detection technologies to avoid injuring human coworkers. Collaborative robot variants also minimize errors, increase productivity, and offer enhanced operating results. Consequently, they find extensive applications across several sectors, including electronics, automotive, manufacturing, food and beverage (F&B), etc.
Covid-19 Impact:
We are regularly tracking the direct effect of COVID-19 on the market, along with the indirect influence of associated industries. These observations will be integrated into the report. The industry is segmented by size and region. The report provides an analysis of the key trends in each sub-segment of the market, along with forecasts at the global and regional level from 2022-2027. The report also includes competitive landscape of major key players in the industry along with emerging trends in the market.
Download free sample brochure: https://www.imarcgroup.com/collaborative-robot-market/requestsample
Global Collaborative Robot Market Trends and Drivers:
The emerging trend of industrial automation, especially across developing countries, and the rising demand for high payload capacity robot models are among the key factors driving the collaborative robot market. In addition to this, the integration of torque and force sensing technologies in these robot variants is also positively influencing the global market.
Moreover, the rising usage of cobots in the manufacturing process, such as on the assembly lines and welding, is acting as another significant growth-inducing factor. Besides this, the increasing need for user-friendly robots that do not require a highly skilled workforce to carry out operations is further augmenting the market growth. Additionally, the growing requirement for cobot applications in the packaging sector to enhance production rates and in the logistics industry to handle complicated work processes is anticipated to propel the collaborative robot market in the coming years.
Collaborative Robot Market Report Scope

Report Coverage

Details

Market size value in 2021

US$ 1.31 Billion

Market forecast in 2027

US$ 11.82 Billion

Growth Rate

CAGR of 41.20% from 2022 to 2027

Base year for estimation

2021

Historical data

2016-2021

Forecast period

2022-2027
Report Segmentation:
The report has been segmented the market into following categories:
Breakup by Component:
Breakup by Payload:
Upto 5 Kg
5-10 Kg
Above 10 Kg
Breakup by Application:
Material Handling
Pick and Place
Assembly
Palletizing and De-Palletizing
Others
Breakup by End Use Industry:
Automotive
Electronics
Manufacturing
Food and Beverage
Chemicals and Pharmaceutical
Others
Breakup by Region:
North America: (United States, Canada)
Asia Pacific: (China, Japan, India, South Korea, Australia, Indonesia, Others)
Europe: (Germany, France, United Kingdom, Italy, Spain, Russia, Others)
Latin America: (Brazil, Mexico, Others)
Middle East and Africa
Ask Analyst for Customization and Explore Full Report with TOC & List of Figure: https://www.imarcgroup.com/request?type=report&id=5728&flag=C
List of Major Key Players:
The major players in the market are ABB Ltd.(NYSE: ABB), AUBO (Beijing) Robotics Technology Co. Ltd., DENSO WAVE Incorporated (Denso Corporation), Doosan Robotics Inc. (Doosan Group), Fanuc Corporation (OTCMKTS: FANUY), Kawasaki Heavy Industries Ltd., KUKA AG (Midea Group), Omron Corporation, Precise Automation Inc. (Brooks Automation Inc), Rethink Robotics GmbH, TechMan Robot Inc. (Quanta Storage Inc.), Universal Robots (Teradyne Inc) and Yaskawa Electric Corporation.
Browse More Latest Report of IMARC Group:
IoT In Construction Market Report: https://www.imarcgroup.com/iot-in-construction-market
Sports Protective Equipment Market Report: https://www.imarcgroup.com/sports-protective-equipment-market
Smart Waste Management Market Report: https://www.imarcgroup.com/smart-waste-management-market
Network Automation Market Report: https://www.imarcgroup.com/network-automation-market
Cardiovascular Devices Market Report: https://www.imarcgroup.com/cardiovascular-devices-market
Sensor Fusion Market Report: https://www.imarcgroup.com/sensor-fusion-market
Who we are:
IMARC Group is a leading market research company that offers management strategy and market research worldwide. We partner with clients in all sectors and regions to identify their highest-value opportunities, address their most critical challenges, and transform their businesses.
IMARC's information products include major market, scientific, economic and technological developments for business leaders in pharmaceutical, industrial, and high technology organizations. Market forecasts and industry analysis for biotechnology, advanced materials, pharmaceuticals, food and beverage, travel and tourism, nanotechnology and novel processing methods are at the top of the company's expertise.
Media Contact
Company Name: IMARC Group
Contact Person: Elena Anderson
Email: Send Email
Phone: +1-631-791-1145
Address:30 N Gould St Ste R
City: Sheridan
State: WY
Country: United States
Website: https://www.imarcgroup.com