Real estate Company Nicole Spellman Group expands in Louisiana
Renowned real estate Company Nicole Spellman Group announced expansion plans throughout Louisiana.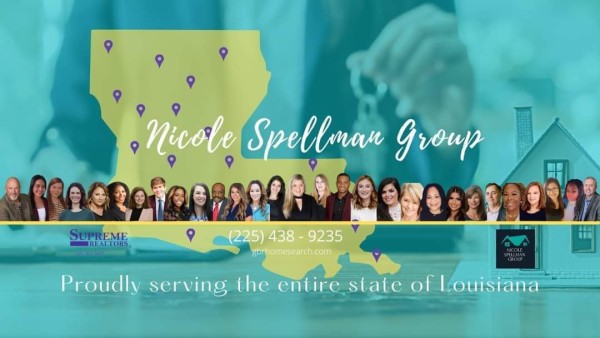 Nicole Spellman Group is a premier real estate agency that employs a team of reliable, experienced, and committed real estate agents. The real estate company has just expanded its presence in Louisiana. They now cater to serving clients in the entire state of Louisiana, including places like New Orleans, Baton Rouge, Lafayette, Lake Charles, Alexandria, Shreveport, and Monroe.
The main areas of specialization of Nicole Spellman Group are residential, commercial, and luxury real estate.
Nicole Gaudet is the team leader and is also the national real estate coach. "We now have over thirty real estate agents who cater to the needs of the clients in the entire state. We have recently added an Inside Sales Department. This helps our agents as they do not have to deal with a cold call. They are instead transferred hot leads, and they can focus on doing what they love and enjoy-showing homes to customers," said Nicole.
In Gonzales, Louisiana, the real estate company works with a group of dependable, knowledgeable, and dedicated real estate brokers. They serve clients in Baton Rouge, Greater New Orleans, Hammond/North Shore, Lafayette, and Shreveport.
In Louisiana, the Nicole Spellman Group has assisted thousands of clients. The organization has long been the area's go-to online source for buying and selling houses. By offering real-time updates on all homes up for sale in the area, the real estate professionals assisted many home buyers and sellers in achieving their respective objectives.
The agents from Nicole Spellman Group gave the buyers and sellers full access to everything they required, including the most recent market data and listings. So, whether someone was trying to buy or sell a house in Gonzales, Prairieville, Lafayette, LaPlace Hammond, Houma, Kentwood, or any other region of Louisiana, Nicole Spellman Group has assisted them all.
Nicole Spellman Group is dedicated to assisting those in need because of its track record of promptly producing outcomes and upholding open communication lines.
They plan to expand to Mississippi and Arkansas in 2022.
For more details, visit www.nicolespellmangroup.com
Media Contact
Company Name: Nicole Spellman Group
Contact Person: Nicole Spellman
Email: Send Email
City: Baton Rouge
State: Louisiana
Country: United States
Website: www.nicolespellmangroup.com