WITHTECH's Ozone Monitoring System Detects O3 in Air with High Level of Precision

Withtech is a company that cares about the environment and makes the world clean for the next generation.
August 22, 2022 – WITHTECH, a company that provides user-friendly product development and monitoring operation management services through high-precision analysis and contamination control technologies in the environmental industries, has launched Ozone Monitoring System, WOA-683 which provides ultra-high-sensitivity real-time monitoring for ozone (O3) in cleanroom air.
Ozone (O3) is a molecule that contains three oxygen atoms that are constantly destroyed and formed in the stratosphere. It plays a vital role in protecting life on earth by shielding the sun's harmful radiation from reaching the surface. However, ground-level ozone is harmful to human health and the environment, especially on sunny days when its concentration can reach high levels. Also, it is an originator of photochemical smog, which has a devastating effect on human health.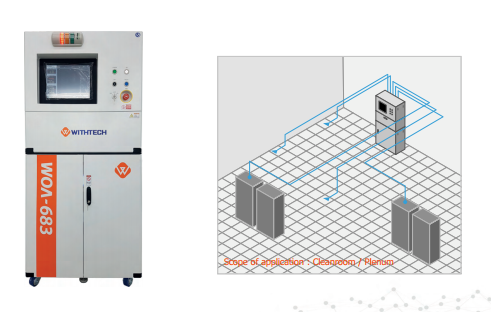 Because of the catastrophic effect ground-level ozone has on life on earth, the ozone gas must be monitored properly. Ozone monitoring is a critical component of air quality management. Even though different monitoring technologies have been developed to monitor ozone concentrations, none can boast of simplicity and effectiveness as the WITHTECH Ozone Monitoring System, WOA-683.
WITHTECH Ozone Monitoring System, WOA-683 helps in calculating the air quality index to deliver health advisories as well as formulating an action plan to meet standards. It features a dedicated calibrator and sampling ports that are scalable. WITHTECH Ozone Monitoring System, WOA-683 is built with ease of use in mind, which is why it features software that is editable and easy to understand.
If you're looking for an ozone monitoring system that performs fast analysis, WITHTECH Ozone Monitoring System is your best bet. The product conforms to standards obtainable in industries and has been tested for efficiency. What's more, it is easy to install, affordable for industries, and gives analysis that is easy to read.
To learn more about WITHTECH and its innovative technological products, visit https://withtech.co.kr/en/main/main.php.
About WITHTECH
WITHTECH is the world's leading manufacturer of environmental, process, and material monitoring equipment with high-precision analysis and contamination control technologies for the semiconductor and display industries. The company produces smart molecular monitoring technology for the environmental, energy, bio and military fields. WITHTECH has highly trained and competent technologists with ample years of experience. Their products are thoroughly tested and have undergone the necessary certifications. For more information about WITHTECH or its product, please visit its website.
Media Contact
Company Name: WITHTECH
Contact Person: Andy Hong
Email: Send Email
Phone: (042)936-7117
Country: South Korea
Website: www.withtech.co.kr/en/main/main.php