Department of Labor Issues Certificate to Trivent Safety Consulting for registration of their Ironworker Apprenticeship Program in Denver Co.
On 22 JUNE 2020, The certificate of registration was issued to Trivent Safety Consulting by the department of labor for their Ironworker Apprenticeship Program in Denver Co. Trivent Safety being the supervisor of a group internship program which currently has two companies registering their apprentices in the apprenticeship, High Plains Steel Services and Flawless Steel Welding.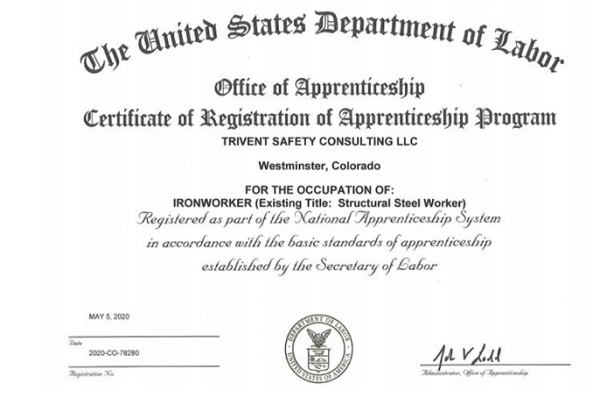 The program currently has over 20 apprentices registered and attending classes with 5 on track to graduate this year. With the addition of Trivent Safety, there are now three Department of Labor registered Structural Iron and Steel worker programs in Colorado. The Ironworkers apprenticeship program is a well-organized and supervised method of training people to become qualified ironworkers in all segments of the trade.
An Ironworker apprentice learns the trade of Ironworker as he works full time for his company. To learn how to fabricate, construct and join scaffolding, structural steel buildings, bridges, ornamental ironwork and pre-cast structures. The apprentice school is an arranged classroom training of 12 hours a month. The Ironworker apprentice program is a three-year long program. To complete the program and receive theirjourneyman certificate from the Department of Labor the apprentice is required to complete a minimum of 475 hours of classroom, welding lab training and 6000 hours of the job learning. The mission of Ironworkers Apprenticeship and Training Program is to ensure that ironworkers have the skills, knowledge, and training necessary to be safe on the jobsite, competitive in the workplace, and satisfied in their careers.
Ironworkers erect the steel beam skeletons for every type of structure from the skyscrapers downtown to the one-story strip mall structures in the suburbs. Ironworkers often work at great heights and walk on beams that are no wider than four inches. To be an Ironworker takes great dexterity and balance with a keen alertness to the dangers all around them every day. Although the trade of Ironworker had been made much safer over the years it still ranks as the sixth most deadliest job in America according to Forbes magazine.
Media Contact
Company Name: Trivent Safety Consulting
Contact Person: Bryan McClure
Email: Send Email
Phone: 720-388-0609
Country: United States
Website: https://www.triventsc.com/