"Qingyijiang tea" tea picking festival in Jiajiang, China
On March 28, the first "qingyi river tea" gathering festival opened in tianfu tea garden. Strengthen and expand jiajiang tea industry pillar industry, further improve jiajiang tea brand awareness, actively create "China's first green tea export county".
Province agriculture rural secondary inspector, characteristic industry, department chief XiaoXiangGui hall, secretary of the provincial academy of agricultural sciences tea research institute, China tea circulation association, vice President of wang yunwu, city federation of trade unions, guo-bing huang, vice President of party secretary, executive director of the municipal bureau of agriculture and rural areas Mao Jian, the county party committee secretary Gong Deqin, vice secretary of the county, the county magistrate QiBin, chairman of cppcc.in jian-guo Lin, vice secretary of the county YouYongHong, QinZhangJian and the county committee and county peoples congress, the county government, cppcc.in leadership to attend the opening ceremony.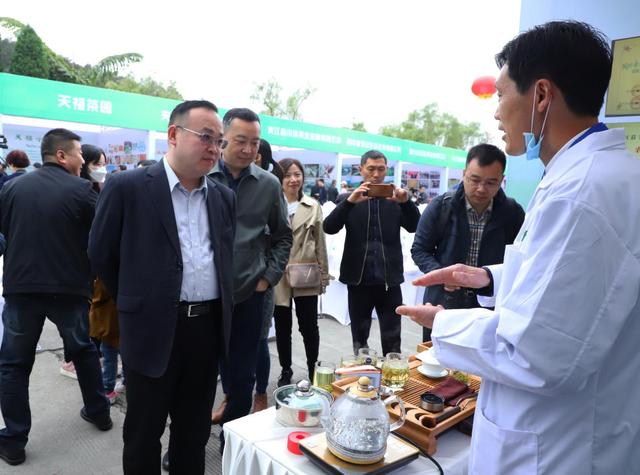 Jiajiang county, guided by the goal of "the first county in the export of green tea in China", made the decision of "3511", cultivated an area of 300,000 mu of tea gardens, with an average planting area of 1.38 mu for 220,000 tea farmers and an average annual income of 8,000 yuan, built a regional brand of "qingyi river tea", and realized the first export of sichuan tea to One Belt And One Road countries. In 2019, the comprehensive output value of tea industry reached 5.62 billion yuan, making jiajiang contribution to 100 billion sichuan tea. It was awarded the "national key tea producing county", "China's strong export county of green tea" and other golden signs. Tea has become the fourth business card after "nuclear, porcelain and paper".
Next, the county party committee and government will continue to support the tea industry in the new era, said zumin. One is to establish the jiajiang standard for green tea export, focusing on three standards: base standard, local standard for green tea export, and tea enterprise standard for standardized processing, so as to further enhance the "voice" of jiajiang in green tea export. Second, we should step up tea export, establish a green tea export overseas trade alliance, and build a regular overseas sales platform. Third, further promote the brand of "qingyi river tea", promote the formation of the "government + association + market main body" three-point publicity mode, regular transmission of "qingyi river tea" to the international and domestic information, and strive to achieve the tea comprehensive output value of 7 billion yuan this year.
Director of the municipal bureau of agriculture and rural areas Mao Jian said in his speech, in recent years, jiajiang to seize opportunities, active integrate all the way "area" strategy, around the country revitalization and the province's "10 + 3″ modern agriculture industry system construction, make full use of the base scale, standardization, export processing industry advantages of clustering, creat the first county", "national green tea exports. Hope that through this tea picking festival series of activities, to promote jiajiang county green tea export to a new level.
Provincial agriculture and rural department of secondary inspector, characteristic industry department director xiao xianggui announced the opening of the event.
The highlight of the opening ceremony was the signing of tea contracts. Jiajiang baiyue tea co., ltd. signed a trade agreement with senegalese Sas tea company for 3.7 million yuan and 230 tons of green tea. "We used to go to zhejiang to find tea for export," says Sas trade representative li jian. In fact, many teas in zhejiang are made in sichuan. The most important thing is that jiajiang makes good use of the summer and autumn tea, with a large enough supply and a steady supply. "foreigners who drink tea in pursuit of fragrance do not care whether it is spring tea or not, so jiajiang's tea can be exported for three seasons a year with a stable supply of tea.
In addition, signing the scene, branching channel HuaYi tea industry co., LTD and sichuan province ping Wu Xuebao top tea industry group co., LTD. Signed a $34 million worth of trade agreements, clip Jiang Hongchun tea industry co., LTD., shaoxing and xing tea co., LTD. Signed a $620 million worth of trade agreements, branching channel core good tea industry co., LTD and emei snow flower tea industry company signed trade deals worth 4 million yuan. Meanwhile, jiajiang county people's government signed a project investment agreement with jiajiang branch of sichuan laoshuchuan tea import and export trading company, with an investment amount of 50 million yuan.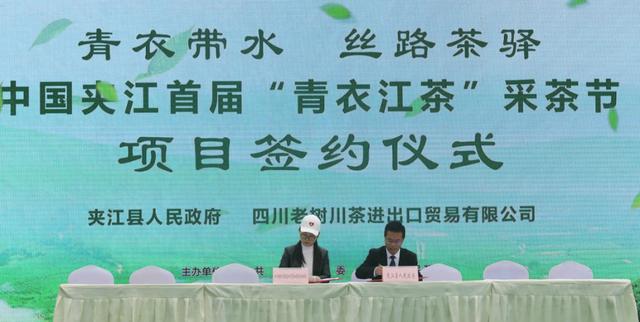 The opening ceremony also held a wonderful literary performance. Representatives of domestic and foreign merchants, heads of county departments, towns (streets) and representatives of tea enterprises in the county region attended the opening ceremony.
Media Contact
Company Name: Am-News
Contact Person: JANE
Email: Send Email
Country: United States
Website: www.am-news.com